News
KZN Flood: Death toll increases to 253 people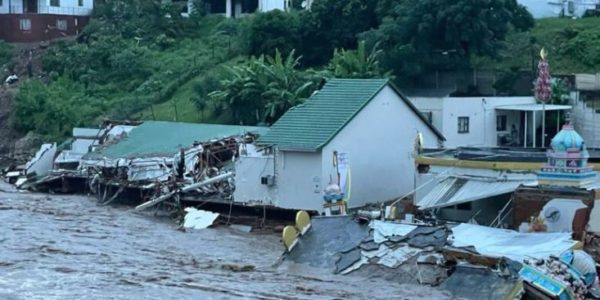 Nomagugu Simelane who is the MEC of health in KZN confirms that the death toll has moved from 59 to 253 people.
The flood has wreaked huge havoc leaving many homeless and some are reportedly lost.
🔴 🇿🇦BREAKING: DEATH TOLL FROM #KZNFLOODS HAS CLIMBED TO 253 PEOPLE!!! IT'S NOW OFFICIALLY ONE OF THE MOST DEADLY WEATHER EVENTS IN SA'S HISTORY!!!

— Gauteng Weather (@tWeatherSA) April 13, 2022
On the 12th of April, mudslides and collapsed houses were the horrors that majorly contributed to the loss of lives.
Bridges collapsed and major highways have been covered with water.
President Cyril Ramaphosa has visited the flood-affected area, videos from his visit are shared on social media, as he spent all day at KZN.
President @CyrilRamaphosa accompanied by provincial leadership as led by KZN Premier @SZiks engaging community members affected by the #KZNFloods. Government is offering support to affected communities around the province. pic.twitter.com/g3mGlPZIQF

— Presidency | South Africa 🇿🇦 (@PresidencyZA) April 13, 2022
President @CyrilRamaphosa interacting with affected communities and assessing the damage caused by the heavy rains of the past few days which have claimed lives, and caused significant damage to infrastructure. #KZNFloods pic.twitter.com/5ypIAvEaTH

— Presidency | South Africa 🇿🇦 (@PresidencyZA) April 13, 2022
[PHOTOS]: Briefing the President on the impact of the weather, the number of people and households affected, the response and interventions by the @KZNGov as the assessments continue to quantify extent of damage #KZNFloods and resource capacity required for the response. pic.twitter.com/iOsEtodwLp

— Presidency | South Africa 🇿🇦 (@PresidencyZA) April 13, 2022